Posted on
November 25th, 2005 (Mood:
)
by Shaui
:opinion:
Watched American Music Awards 05 tonite…twice! Why? Had to be sure that 1) Eminem's award(ing) was not televised; 2) Sarah and Cyndi's Time After Time was awesome; 3) Lindsay Lohan is pretty as a brunette but sucks as a (live) singer; 4) Hillary Duff is not as pretty as Lindsay but sings a little better than Lindsay; 5) I like Sheryl Crow that night; and 5) Rob Thomas was hot and sexy while singing a mushy version of Ever The Same.
Yup! waited for Eminem…no Eminem…khit sa audience seat, wala!
Sarah Mclachlan & Cyndi Lauper's number rocks in black and white. Galing…lalo na with the classic song Time After Time.
Not much of a Sheryl Crow fan…pero compared sa iba…angat. Do I need to mention na astig ang bf nya? 😉
Lindsay or Hillary? This question is like asking me Britney or Christina. Beauty-wise–Britney. Talent-in-singing-wise–Christina. NAMAN!!! So I like Lindsay's face (and body) more than Hillary. But when it comes to singing, I think Hillary sings way more better than Lindsay. I could have died of embarrassment for Linday when she sang…that was her "primetime network singing debut" pa naman daw. I did nott understand a single word sa lyrics…except for the oohh-oohh…mas malakas pa boses ng back-up singers nya at ung instruments ng banda nya…at trying hard atang magpaka-rockstar…di akma ang stage performance! My gulay. Buti n lng, cute ang outfit nya at bagay s kanya maging brunette at maganda sya. (Too bad, she performed after Rob Thomas…mas lalong nahalata na walang kalatoy-latoy ang number nya).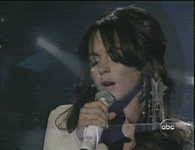 Then it was Hillary's turn…grand entrance! At naintindihan ko ang mga lyrics..malinaw. Then I told myself, sabi ko na eh, mas marunong kumanta itong batang ito. …at naiintindihan ko lyrics nya…& then, nagli-lipsyn lng b ang batang ito??? Mejo ok sa performance…weird nga lng ung dancers nya…pro nman..hanggang sa natapos ung kanta (lipsync or not), all I heard was "Beat of my heart…beat of my heart…beat of my heart"…and it goes over and over and over!!! 80% ata ng kanta ay "beat of my heart" ang lyrics! Hanuvah!!!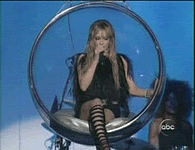 Ever The Same was performed…errr sang the way that it should have been. (In my opinion lang ah) GANDA!!! Heard the original dati, okay lang. Although lahat naman ata ng Matchbox 20 at basta boses ni Rob ay okay for me. Was it just me o mejo may hawig si Eminem kay Rob?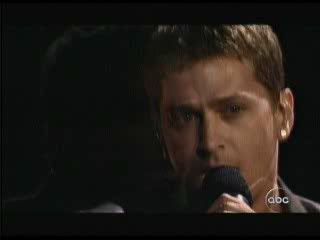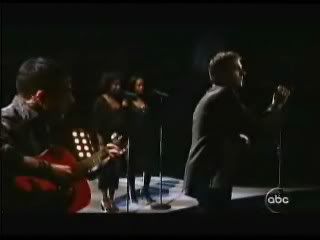 ADDED: SHAUI RECOMMENDS
Download Ever The Same, AMA 05 Version: Right click & "Save Target As"
Download Ever The Same, Album Version: Right click & "Save Target AS"
After watching it twice, the show was a bore. What made it worthwhile was Rob's Ever The Same and Cyndi & Sarah's Time After Time. (How about Mariah's? No Comment! Nagkalat ata sya nung umpisa pero humabol.)